ProPest Control's

Monthly Call Volume Has Climbed By 170%, With More Than 30 New Calls

ProPest Control offers services for pest control in the local area of Richmond, BC. The company has been around for several years and, as such, has a lot of experience in this field. They are a family-run business and have been servicing the community for many years.
They began with humble beginnings and have steadily grown over the years to now serve hundreds of customers throughout several communities. The team noticed they had reached a point in their growth curve where they were no longer seeing growth but rather a slowed-down fall, fueled solely by word of mouth and other traditional marketing methods.
To fight this, they opted to engage Pest Control SEO to resurrect their dormant customer acquisition process.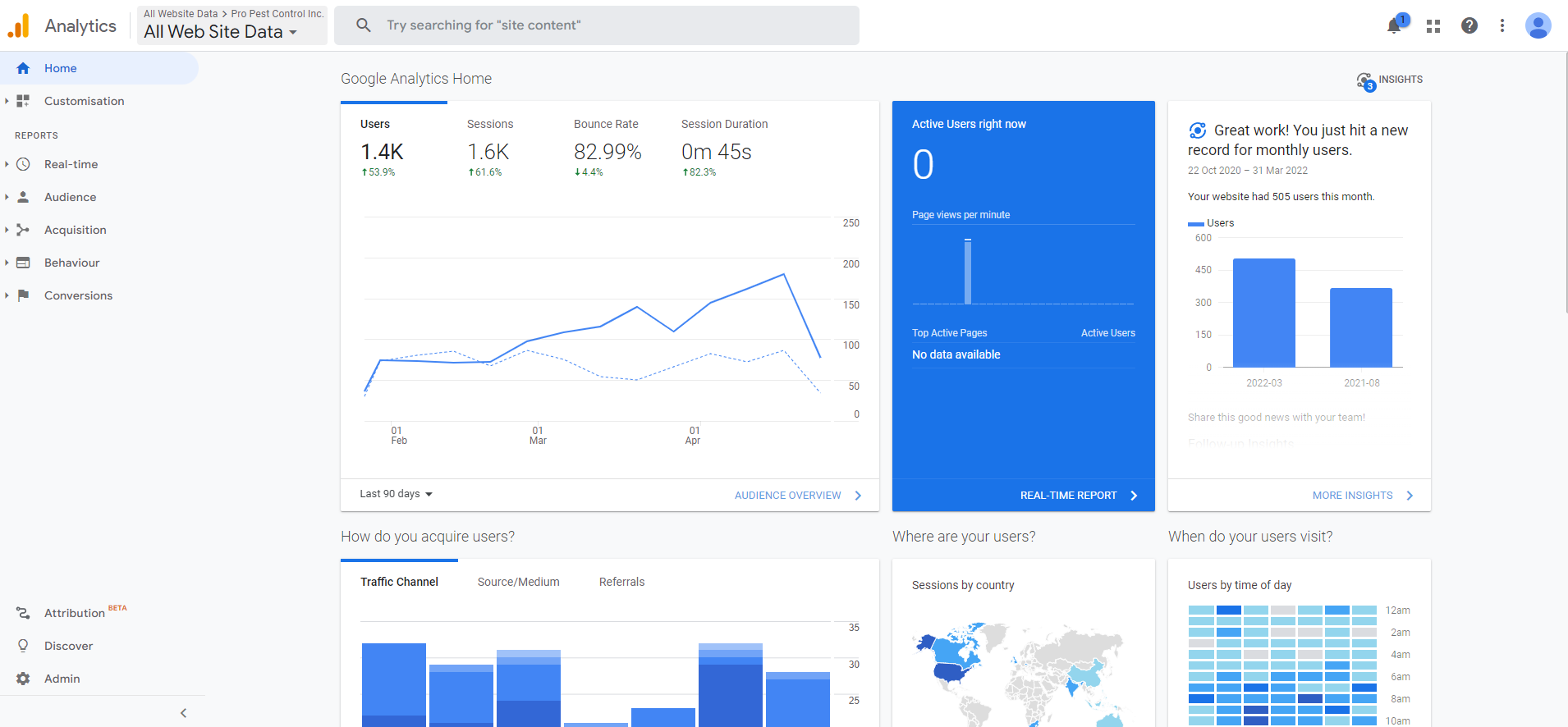 The team at ProPest struggled to establish an online funnel that fit their objectives and providing them with new customers as a firm that grew mostly through word of mouth and other traditional marketing tactics. Users nowadays just Google their concerns, read reviews, and select the first firm or service that suits their needs.
Although they had a website, ProPest was not ranking highly in search engine results (SERPs). Their existing campaigns and paid traffic sources were not getting enough leads to justify the investment. They needed a better way to attract new customers online. ProPest's website was not converting because it lacked authority in search. Their site was too new to earn the trust of search engines and was also missing many key SEO components such as keyword-rich content and internal links, which are necessary for earning authority in search rankings.
We helped ProPest add valuable content to their site and optimized for keywords that would bring in qualified leads that have high search volume but low competition. After our initial audit of the site, we found that there was little content and no keywords targeting these terms. 
Our proposition to ProPest was to build a strong funnel that would get the company ranked in the multiple city market serviced, giving them more leads and business to pick from. We also determined that there wasn't any link building from external sites pointing back to ProPest, which had a negative effect on the company's rankings in SERPs.
We employ world-class SEO strategies, a bespoke system, and an excellent approach to ensure pest control websites appear higher on search page rankings within their target areas. Our recommendation was to build a strong funnel that would get the company ranked in the multiple city market serviced, giving them more leads and business to pick from.
Pest Control SEO In-Depth Approach
During our strategy meeting, this is the first thing we do. We will conduct an audit of the client's material. While they were creating and using a lot of information, we discovered that much of that content was not meeting our criteria throughout the audit process. As a result of our investigation, Google devalued the site's ability to deliver value to its users by penalizing it for poor targeting, keyword use, and overall authority.
Our goal here is to identify the terms that potential customers use to make a purchasing choice. After that, we'll attempt to create content that uses those keywords and phrases in order to boost our site's search engine rankings. As a service to our client, we tracked the most popular search results for those keywords. We were able to improve the company's position in the relevant marketplaces by creating content around such words.
It's not our belief that a piece of content is simply a collection of random words or phrases. In order to ensure that each page is properly cataloged and contains the relevant phrases that appeal to the audience, our approach to content strategy is to use keywords in a clear and simple manner. For the client, our content strategy was to build on the strengths that had already made them so popular with their audience. Once a customer arrived at the company's website, they had an excellent chance of converting.
Finally, we worked our magic to ensure that the customer was receiving a steady stream of links from other websites. We were able to secure links from relevant sites operating within the company's vertical as a result of our link-building campaign. Since the site already had new and updated content, obtaining links through outreach was a cinch. We worked hard to ensure that the content we supplied was engaging and educational enough for people to share and link to it. This increased site traffic, search ranks, and reputation.

Our objective was to help ProPest Control secure its position as an industry leader by harnessing the power of SEO to increase and sustain its online presence while also establishing trust and relationships with potential customers.
The outcomes were very remarkable. Their monthly call volume increased by 170%, and they now receive more than 30 new calls per month from potential clients who are eager to schedule an appointment or service.