The Bug Master

Ranked #1 in 37 Cities, With a 207.5% Spike in Organic Phone Calls

The Bug Master is a family-owned pest control business that has been serving Austin, San Marcos, and the surrounding cities for over 35 years. Dauphin, the owner, is dedicated to providing outstanding results and customer service, and their team works with each customer in an individual manner to handle their specific pest issues.
They required assistance with their SEO strategy in order to channel relevant traffic, attract more potential clients, and close the deal. This analysis can serve as an example for other companies that don't have an internet presence but want to improve their SEO results.
We offer practical solutions that will help them attract more clients while also enhancing brand awareness and sales conversions.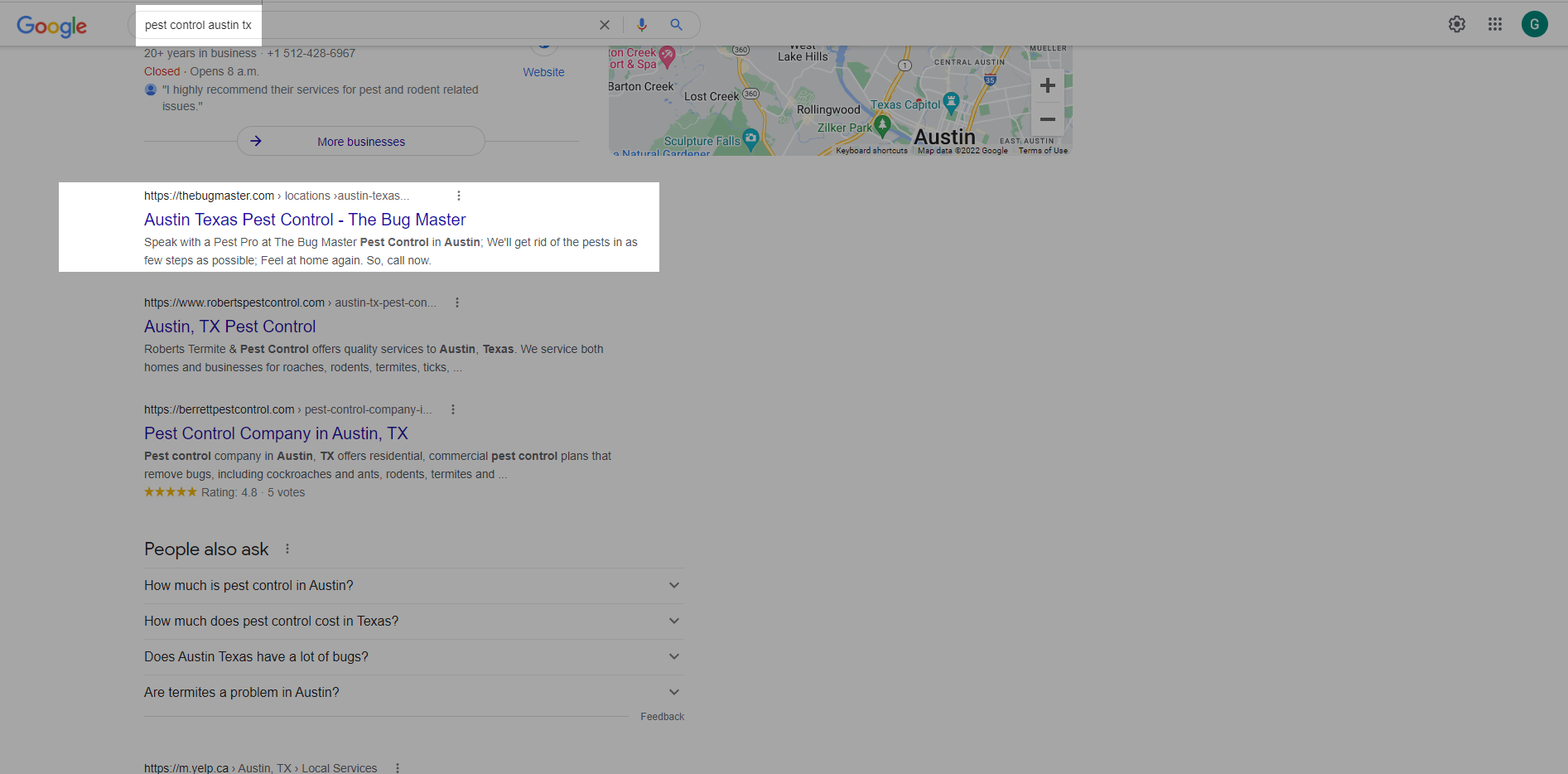 For a long time, The Bug Master had been in business and enjoyed moderate success. They had a good number of clients and a solid reputation. However, they were starting to see the need for an online presence, and they knew they needed help to manage it. 
We looked at the current traffic on their site and saw it was substantial, but the vast majority of it was 99% irrelevant. We discovered that this was because of how their site was set up: each page had an SEO tag, but those tags were not relevant to what people were searching. While they got a lot of traffic, they weren't getting any meaningful business from it.
Their website was ranking for a decent number of keywords, but they weren't the most relevant or competitive ones. We stepped in to help them make the most of their website and target keywords that would boost their traffic and conversions. 
Our expert SEO team took an in-depth look at The Bug Master's business model, industry, and current online presence. We worked with them to find out what keywords would be best for them to target.
When they partnered with Pest Control SEO, they told us they wanted more than SEO improvements—they wanted an entire website overhaul that would bring them new customers and make them more competitive in the market. We knew we could help them achieve their goals. Gary and the team promised Dauphin that they would rank him for numerous locations where he delivers services, allowing him to pick and choose which cities he would service and receive business from.
Pest Control SEO In-Depth Approach
We conducted an in-depth content audit, which allowed us to identify the best opportunities for new content that would align with their SEO goals. We gathered data on traffic and user engagement to understand what people were looking for when they found The Bug Master's site and what was working (or not working) for them once they got there. By auditing their existing site before beginning our SEO strategy, we could make sure that any future efforts would be well-targeted and effective as quickly as possible.
We started our research by identifying key target keywords for The Bug Master's SEO campaign, then built out a keyword map that informed the foundation of our strategy. Our goal was to find a variety of long-tail and short-tail keywords with a strong search volume that we could optimize each page for. From there, we continued to do keyword research to find additional opportunities for growth as the campaign progressed.
Based on our keyword research findings and competitive analysis, we developed a high-level strategy to increase The Bug Master's organic traffic and online visibility through highly targeted landing pages. These pages, centered around specific keyword themes, helped increase The Bug Master's presence in Google search results and drive more traffic to their site. As we continued with the campaign, we continued to do additional keyword research and update our list of targeted phrases when needed.
Finally, we needed to guarantee that Dauphin received an adequate number of incoming links from websites linked to the industry. As a result of our investigation, we spent time on these internet destinations. We then initiated a link-building operation to promote The Bug Master's new work. We made an effort to ensure that the stuff we shared and linked to was both entertaining and educational. As a result, site traffic, search engine ranks, and reputation increased.

These steps led to a 207.5% increase in phone calls from organic traffic and a #1 ranking for "Pest Control Austin TX"—one of the most competitive keywords in North America, which has helped The Bug Master maintain a significant number of the market share for pest control services in the area. These show that our SEO strategies were driving targeted traffic to the site and convincing users to take action. 
The Bug Master is dominating the central Texas market—they've ranked #1 in 37 cities surrounding Austin. And they're not stopping there—they're expanding their reach and gaining new clients and customer interactions every day.