KoThe Pest Bros

Surges 90% In All Targeted Cities And Ranks #2 In Webster, Texas GMB

The Pest Bros provides pest control and abatement services to businesses and homeowners within the Greater Houston Area—from Clear Lake to Galveston. They offer low-cost, quality service while being committed to supplying dependable, competent professionals who will get your home or business back on track as quickly as possible!
The Pest Bros team noticed that word of mouth and other traditional marketing methods were no longer sufficient as they grew their business. They needed a more effective way to drive growth. They were looking to increase their exposure and visibility online but didn't know how to approach it. They also had no idea how much they should spend on a campaign or how long it would take them to see results. Businesses that lack an online presence but want to increase their client base, raise brand awareness and boost sales can use this case study as a blueprint for how they might accomplish these goals.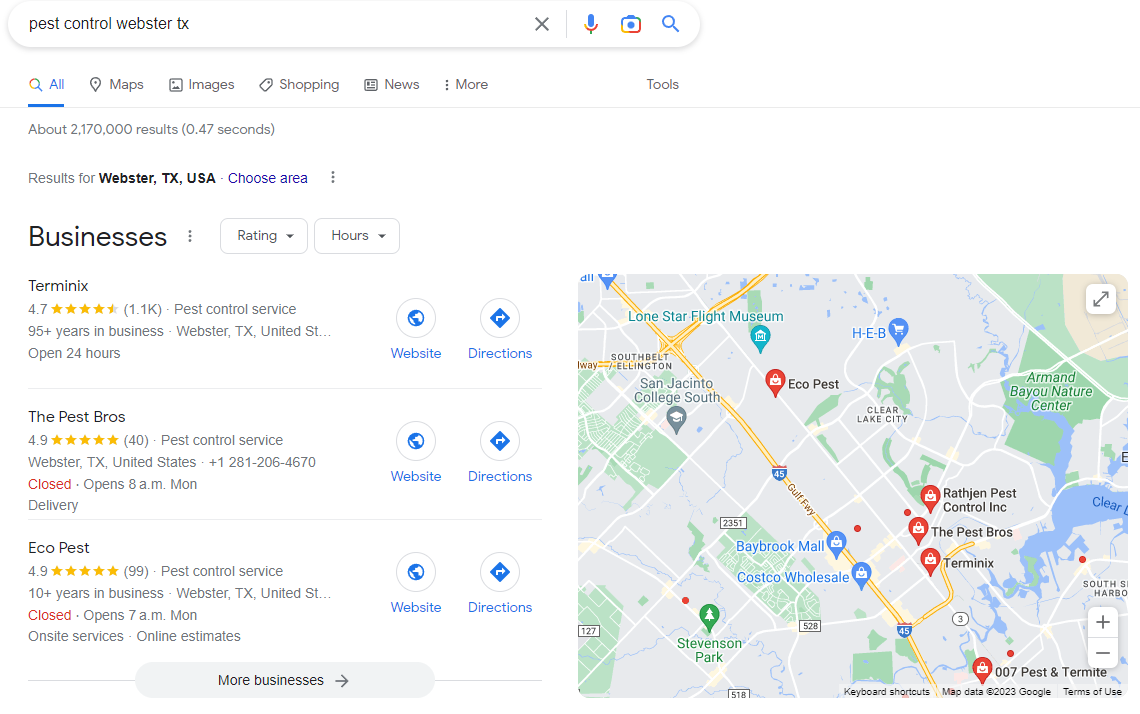 To grow its business, the company needed to increase its exposure on the web. They also wanted to boost brand awareness by increasing their presence in search engines, which would help them attract more customers. Their website was getting almost no traffic, so they weren't sure how to turn that around. They also wanted to attract more customers without spending too much money on advertising—but didn't know where to start.
This is where Pest Control SEOS came in and offered assistance. We analyzed and identified the significant weaknesses of The Pest Bros website and how we could best overcome them. With a comprehensive SEO strategy in place, we were able to increase their online visibility by more than doubling their revenues.
We redesigned and reorganized the website for The Pest Bros, making it unique by including content that does not repeat what is already on the web. We ensured that the content was optimally written for search engines and humans. We created a plan for producing high-quality blogs and content, as well as for generating high-quality backlinks. We also optimized the website for mobile devices. We guaranteed that the website was easy to navigate and that all the content was easily accessible.
Pest Control SEOS helped The Pest Bros develop a unique, informative website optimized for search engines. We were able to help them establish a strong presence in their industry and increase the number of leads they received. We worked closely with them to develop strategies to help them gain new clients and retain existing ones.
Pest Control SEO In-Depth Approach
We conducted a content audit to determine where the website lacked information. We found that the site had insufficient content, poor targeting of keywords, keyword overuse, and a lack of authoritative sources within its articles—all factors contributing to Google's disapproval. We then created a plan to fix these issues. We developed pages for each company's services and made content to answer potential customer questions.
Our keyword research revealed that some terms drove traffic but didn't convert well, and others were low-quality or irrelevant. We used this information to create detailed plans for each page's targeted keywords—improving the site's performance in more service areas. We created city-specific pages on the site to rank for various "city + keyword" searches. These pages are highly optimized and include location-specific information for consumers looking to find businesses nearby.
We created a content strategy for the site, including a list of important topics for their audience. We then brainstormed ideas for each topic and developed a plan for creating new content on those topics. Our content strategy increased the number of visitors to their website and improved engagement with it. The process relied on keyword research for SEO purposes, as well as optimizing individual pages (in addition to ensuring all technical pieces were in place).
We did link outreach to build backlinks and increase the site's authority. This helped the client rank higher in search results and got more traffic from Google. After creating new content for the Pest Bros website, we launched a link-building campaign. We created links by offering people educational and amusing information; as a result, our traffic increased, and our reputation improved.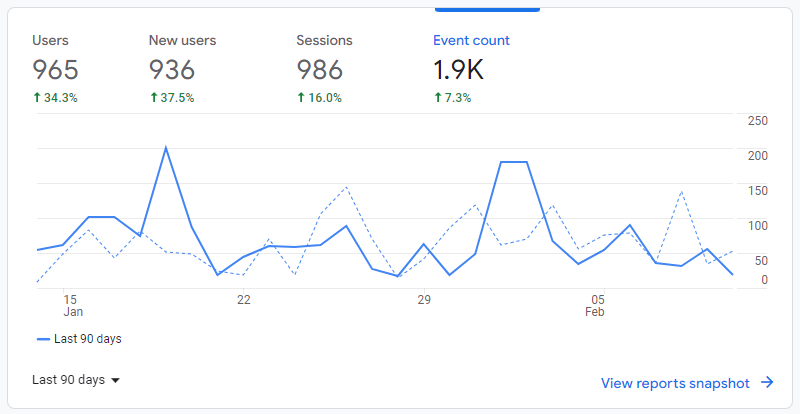 The Pest Bros saw an increase in the number of leads they received for their business. The website was also optimized for search engines so that people looking for pest control services in the area could easily find them online. Their organic traffic has increased by almost 40% in the last 90 days.
They have also achieved a 90% jump in rankings for all the cities they target and are now ranked #2 on Google My Business for Webster, Texas. The Pest Bros are drawn to this strategy because it enables them to get new customers without paying for advertising. For us, organic results generate more clicks and attention than advertisements do. The SEO strategy has helped them grow their company faster than ever before!