Tornado Pest Control

Grew From 0 to 400 Monthly Visitors and Propelled #1 on the Alice, Texas GMB

Jose Lasoya, the owner of Tornado Pest Control, LLC, has been in the industry for over five years and has been growing his business since then. This family-owned company provides pest control and lawn and tree trimming services for home and commercial customers. They offer clients the best solution and service they can provide, which sets them apart from other companies.
Jose recently searched for an SEO agency to help propel him in front of his competitors. He has chosen Pest Control SEOS because of our focus on local SEO and our ability to create quality content that will keep his company relevant. Additionally, we wanted to raise their website as an authoritative source for information about pests and pest control.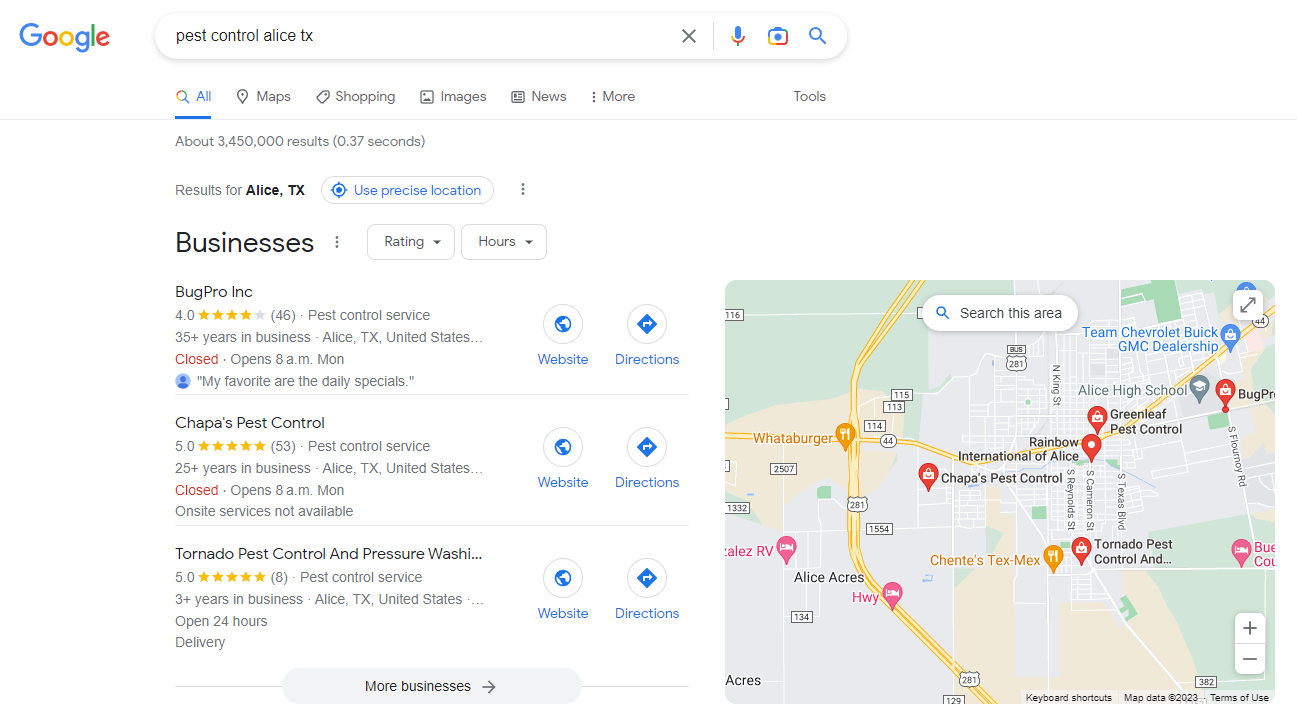 Tornado Pest Control, LLC needed to increase its visibility in search engines and its conversion rate from organic traffic. The company's website was outdated, with no pages aside from the home page. It did not rank for any keywords related to pest control or lawn care services.
They had no traffic coming into the website and were getting no leads. Their online presence was virtually non-existent, and they missed out on opportunities to grow their business. This needed to change for them to stay competitive in their industry.
We worked with Tornado to revamp and optimize its website, adding valuable content and increasing its search engine visibility. We redesigned their website to make it more efficient, added pages for each location and service offered by the company, created a blog that would regularly showcase their expertise and knowledge, and implemented a Google My Business listing.
This helped Tornado to gain more leads and attract new clients. We collaborated with them to create a content strategy that would provide prospective customers with the information they needed to make an educated decision about using their services. We created custom landing pages for each service the company offered, allowing us to capture leads and build relationships with their customers. Entrusting us with the maintenance of their website, they have been able to focus on running their business while still having a presence online.
Pest Control SEO In-Depth Approach
We performed a thorough content audit of the existing website, identifying areas that required updating and creating a plan for how we would move forward. When we looked at their website, it was clear that something had to be done. It was outdated and had only a homepage to show for itself. The site was also not optimized for search engines, making it challenging to find them online. We created a list of the pages that needed to be created and a plan for how we would move forward.
We conducted keyword research to understand consumers' terms better when searching for information. Creating content around those keywords can make our material rank well with search engines like Google. We focused on optimizing the website to rank highly in search results for relevant keywords. To do this, we created city-specific pages to target phrases like "pest control near + city."
Contrary to the prevailing belief that words are enough, genuinely effective content strategies take time to develop and often are noticed once several articles have been published; to attract more clients, we employed a content strategy that told the story of what makes this company unique. If a potential customer came across their blog and loved what they saw, it would be easy for them to decide whether or not to use their services.
This final component ensures that Tornado Pest Control receives a steady supply of inbound links from relevant sites. To guarantee this, we identified websites within the company's vertical and then established relationships with them. We launched a link-building campaign that capitalized on the new content we had developed for the site, which increased leads. With this approach, it's no surprise that their business is growing!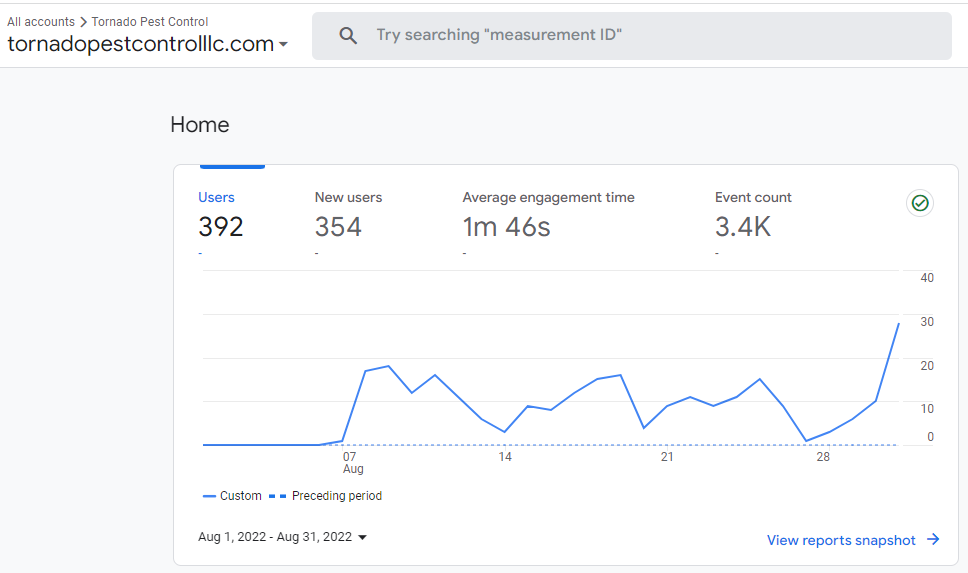 Tornado was able to attract new customers and increase its revenue with the help of our SEO efforts. It saw a significant increase in traffic from 0 visitors per month—when we began working together—to 400+ visitors. The company also saw an increase in leads from the website, and it was able to convert those leads into customers.
Tornado has achieved impressive results, ranking #2 in Alice, Texas GMB and on the first page of San Antonio Google Business Profiles. By doing so, we have helped grow their business and improve their reputation. Their expansion and success have been directly related to this collaborative effort, and they are eager for future growth.